Tavern Village Tales
Tavern Village Tales captures the essence of life in a small hamlet of an old New England town and a sense of its place locally and in the wider world beyond its borders. ~Elizabeth P. Straw, Weare Historian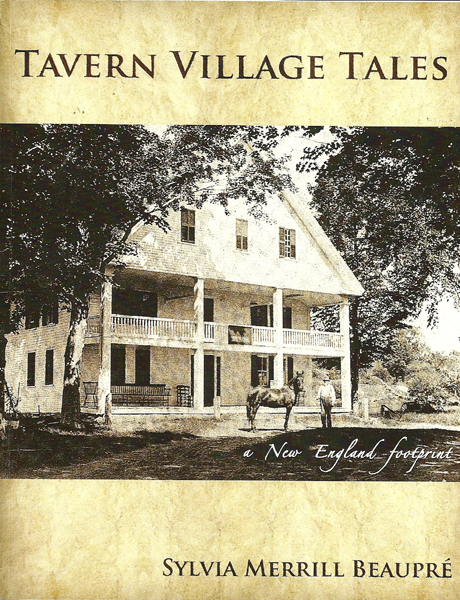 Tavern Village Tales is a New England journey across three centuries -- in one place.

Place laps pleasantly against the soles of the feet, like walks on roads known for a very long time. It's absorbed through the skin, a knowing of one's surroundings -- the feel, sights, sounds, and smells -- on an intimate level, and somehow, their knowing back. One fits the land known as home like bark fits trees: no matter where you go, you are bound to bear the shape of it.
Tavern Village Tales
by Sylvia Merrill Beaupré
Excerpts from the Preface

A boy longs in vain to make the village his. A man arrives with nothing more than a jug and an axe, and leaves the legacy of an inn. Men of war and men of peace make the village their home and leave their mark, along with women who raise the children and step out into the world. Special animals, from spotted salamander to hobbled calf, color village history. A mysterious drowning and the vagaries and vicissitudes of Mother Nature take their toll.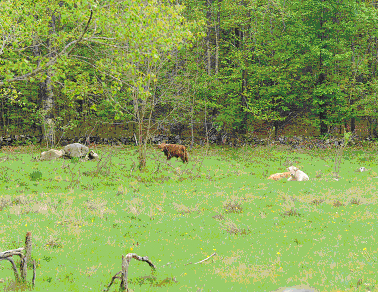 Photo: Tavern field, Roger Cody, 2011
Today, trees - pine, hemlock, maple, beech, and oak - have re-pinned many of the fields to earth, but the stones the settlers hauled to the edges still punctuate the landscape in irregular walls. Whether bane or bounty, the woods have always been an integral and meaningful part of the village. Here, pride of place meant the way one felt not only about people and buildings, but also about the natural world.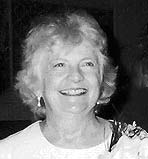 A native of New Hampshire, Sylvia Merrill Beaupré graduated from the University of New Hampshire. In 1980, she and her family settled in her childhood home in Weare. Inspired by her memories and the town's rich history, she wrote Common Ground, a chapbook of poems about a New England village, a theme that has reverberated throughout her writing for various Weare Historical Society publications and local newspapers.
Sylvia was selected as a finalist for Hunger Mountain's Ruth Stone Prize in Poetry and White Eagle Coffee Store Press' Long Fiction Contest International. Her novel excerpt reached semifinalist status in the Boston Fiction Festival's first contest. NH Writers Project selected her poem, "What More Could Be Desired, for its Poetry in Windows contest; the poem appeared at the entrance to the Red River Theatres in Concord, NH.
Her stories have appeared in the Northern New England Review, Entelechy International: A Journal of Contemporary Ideas, Pandora, the anthology Love Free or Die (May 2014), and at NH.com/NH writers. Her poems have been published by Red Booth Review, Spillway, Chautauqua, The Granite Review, South Boston Literary Gazette, Byline, Fearless Books' The Light on Ordinary Things, November Third Club, Ad Hoc Monadnock Online, Earth's Daughters, Yankee Magazine, American University Journal of Gender and the Law, the anthology Hunger Enough: Living Spiritually in a Consumer Society, and others.
Sylvia is a member of the New Hampshire Writers' Project, the Academy of American Poets, and "The Fridays," a local writers group that has been meeting weekly for many years. She belongs to the New Hampshire Historical Society, the Weare Historical Society, and the South Weare Improvement Society.

Tavern Village Tales
Available from "The Store"
August 2011
New Hampshire Writer's Week
Celebrating NH's incredible breadth and
diversity of writers, from poets to novelists,
journalists to bloggers, who encourage us all to
be inspired, or learn, or escape, think, or be
challenged.
Details at nhwritersproject.org